!== Google Phone Tracking ==>
Pallet Transfers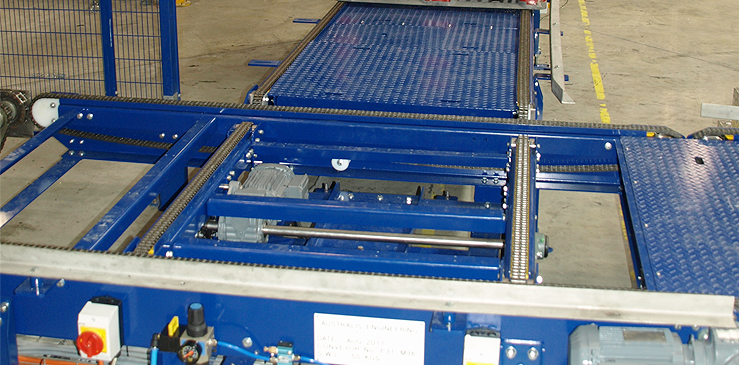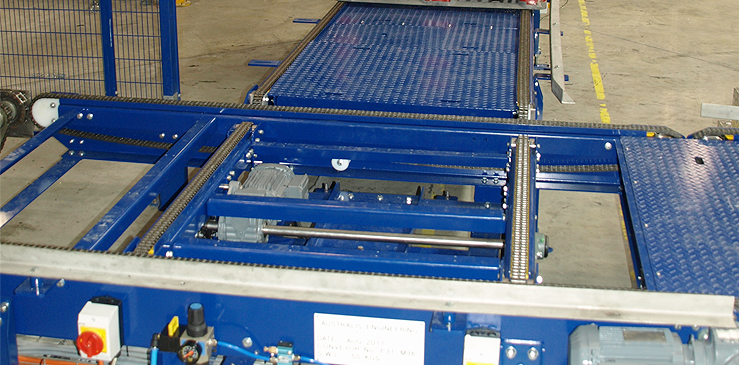 Pallet Transfers – Pop-Up 90° Module
A Pallet transfer is used  to move an empty pallet or a full pallet 90° from one conveyor or machine to another. We have standard models available as Roller Pallet transfers or Chain Pallet transfers. Our pop-up pallet transfer systems are a standard design, but can be easily modified for custom installations or to integrate with existing equipment.
Pallet Transfer – key features
Roller pallet transfer modules
Chain pallet transfer modules
Fits within standard conveyor module frames
Pneumatic lift raises the transfer conveyor
Multiple variants to allow incorporation with both chain and roller conveyor systems
Max. Load Rating: 800 kg/ pallet
Max. Loading: 1 pallet per module
Combined compressed air and electric operation
Minimum conveyor heights required for integration of this module
Suitable for standard CHEP/ Loscom pallets (1165 x 1165 x 150 mm)
Custom pallet sizes and applications available
Pallet Handling Systems
Australis Engineering provides a full range of Pallet Handling Conveyors and Specialised Modules including Pallet Stackers and Pallet Destackers to suit any of your warehousing, conveying or palletising requirements. Our pallet handling equipment is available in Medium Duty and Heavy Duty model ranges to cater for variations in the weight of loaded pallets. Australis Engineering's range of pallet handling equipment is designed to be flexible for ease of customisation and can be easily integrated into existing pallet handling systems or adapted for different standard pallet sizes.
We can provide a whole pallet handling system inclusive of the appropriate conveyor type to suit your application.
Contact Us
There is currently no video available for this Product. Please check back again soon.
The following video is a general overview video of Australis Engineering's product capabilities.
Click here or on the brochure image to view the Pallet Handling Brochure with further information about our range of Pallet Handling equipment.
RELATED PRODUCTS
PREVIOUS CLIENTS